Guys,
I was awoken this morning to the sound of a ringing phone, when I answered it, I was met with a frantic young lady, who was a hair-dresser.
She had a hair-dryer that would not work and she had booked a client for 10am this morning (I might add she is a mobile hairdresser that goes to people's houses).
Now, when she said this, I thought "really?, how expensive is a new hair-dryer"
She then said, this is not your average hair-dryer, it is about 50 years old.
I really had to see a thing like this so I said bring it round and we'll have a gander at it.
When she turned up, she handed me what initially looked more like a vacuum cleaner than a hair-dryer: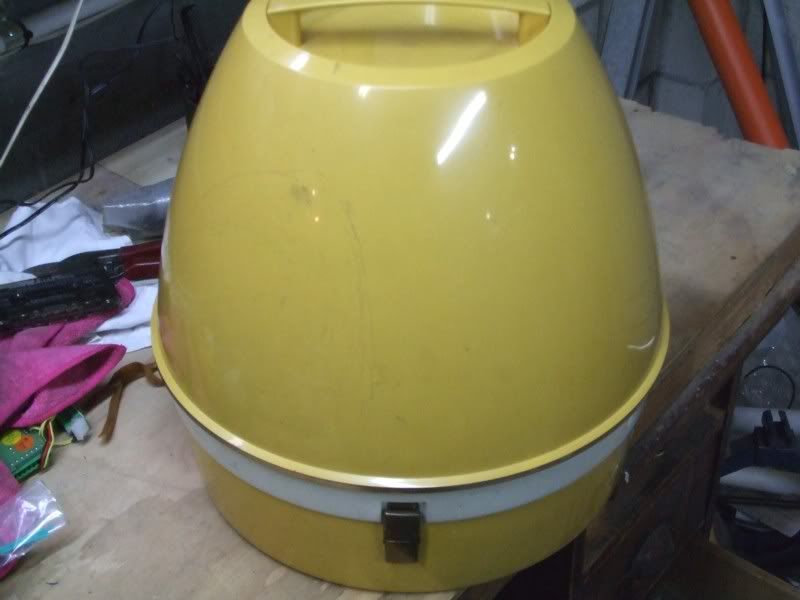 Bear in mind, that this on my work-bench, that is in it's usual untidy state.
She then set it up to look like it should when it is working:
I then set about taking the base of it to bits, where the "workings" are.
Sorry I never got to take a picture of the inside of the actual appliance, it was such a simple fix, I had the thing back together before I realised what I'd done.
Suffice to say, all this thing is, is just a fan, some elements and a 3-heat switch (much the same as we used to have on stoves here before the Simmer-stat came out).
The phase wire had come out of the terminal block, by the appliance moved all the time.
I then put it through it's paces, using my T5 tester and a current loop plug:
That is the appliance running on "High", 3A is pretty decent.
It's pretty compact and well thought out:
The heat control, I thought was pretty cool:
(sorry about the shocking out of focus pic)
A view of the top: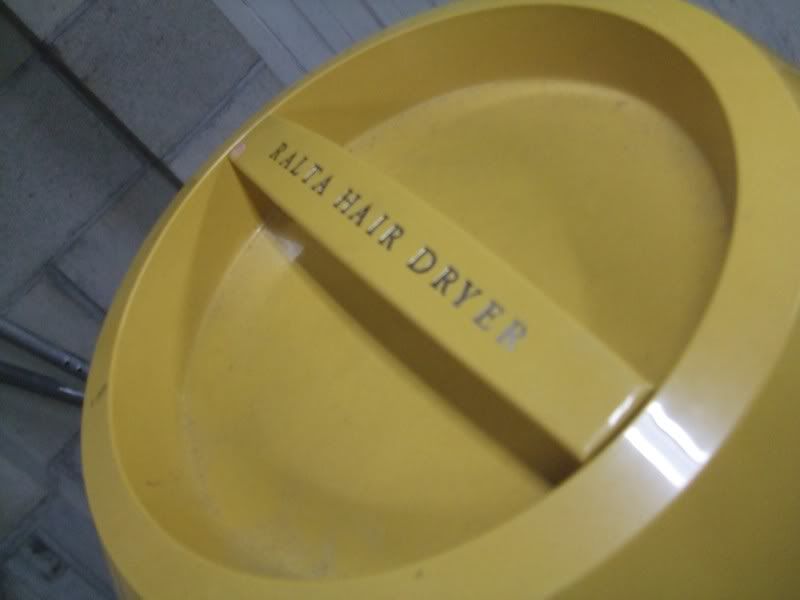 And the name-plate: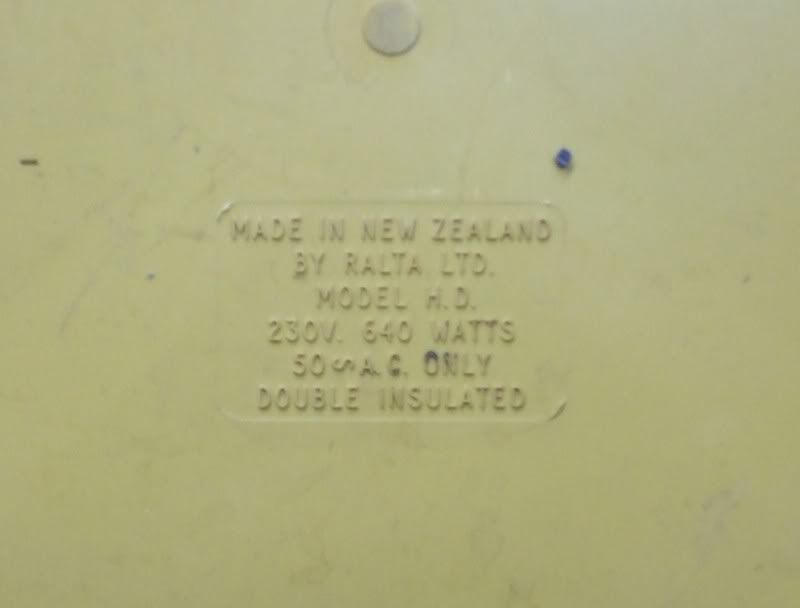 I was really happy about this job, the lady didn't mind waiting while I did the job and I got to capture a bit of appliance history.
Ralta were bought out by another company about 20 years ago and the name is not that well known here anymore,
they made some really good quality stuff in their day, I still own a Ralta toasted sandwich maker, I guard it with my life.
Cheers guys.
Trumpy:
Nice that you could repair that unit. Yes, the 'older' appliances sure seem to have been capable of holding up, and being able to be repaired! It seems to me that we here are becoming more and more of a 'throw away' society. There used to be quite a few storefront 'appliance repair' shops, but over the years, they seemed to vanish. I'm talking the type of appliance you repaired, not refrigs, washers, etc.; little stuff like toasters, radios, most TVs, etc.

BTW, We also used to have a whole lot of things that were 'Made in the USA', but it seems those days are long gone also.


---
John
There are just not many of any kind of repair shop. We really don't fix much of anything anymore.
Parts are the biggest problem. Because of the logistics issue, most parts cost an appreciable portion of the purchase price of a new one.
In the case of electronics, you usually open the case to find there is one big card inside with absolutely zero documentation available and SMT chips that are virtually impossible for the average guy to replace ... if you knew what they were and you could get one.
We have entered a time when the only tool in your kit is a box opener. (why I got out of the computer biz)
---
Greg Fretwell
Time was when the ladies had their heads baked regularly in those plastic coal scuttles! Ma used to go weekly to be doused in ammonia and blue rinse, with wisps of paper, hot gin traps and excruciatingly tight curlers in serried ranks marching across her tortured bonce. The finished result looked like coils of frizzy purple razor wire. Eventually, Ma stopped going, [in the nick of time as it happened], before she went totally bald as the follicles were tire-levered out of her skull.
---
Wood work but can't!
If you did not show the name on the top I would have said its a Sunbeam brand unit.

My mother had one for years, up until she went to the rest home.
Alan,
I could not have put that any better.
I remember growing up in the early 70's and hair-dressers salons used to be full of these things (hair-dryers, I mean) and oddly enough, there were always women under them, unless the shop was closed of course.
You talk of ammonia?, over here whenever ammonia gets out these days, people with chemical suits and breathing apparatus are required to work with it.
Having said that, I once did a retro-fit job in a salon, while it was still being used, if the smell from the noxious cloud of chemicals up near the ceiling didn't make me ill, it was the thought of 6-7 women watching me, to see if I dared slip with the auger bit I was using to drill up through the ceiling.
And of course, I was severely out-numbered, walking out of there WITHOUT at least cleaning up the mess I'd made, with a vacuum cleaner, was not an option at all!
I did it to de-bunk at least ONE male stereo-type, in a rather tough crowd.
Some things, sadly, can't be fixed on old stuff. I just spent hours carefully taking the Renault tractor electrical pod apart, layer by fiddly layer, in an attempt to repair the horn button, only to find that the contact spring-blade has rusted away to dust. I'll have to fit a modern button in a space under the indicators sw. Renault/Perkins only made about 450 of the three-cylinder P3, so getting a genuine replacement will be practically nil after 54 years. I've had better luck with the fuel pre-heater. Almost every part of this wierd assembly, [ the heater is buried up the air intake and you manually squirt diesel over a 12v 10A element with a little brass hand-pump, before hitting the starter lever ], has now been rebuilt with original parts, bar one 'o' ring, modern fuse capsules, a couple of 0.177" ball bearings and about a gallon of WD40!
---
Wood work but can't!
Can't you fabricate another switch strap? If you are really trying to keep this all original I think it is worth the effort.
---
Greg Fretwell
http://www.multiplaz.com/aluminum_welding
For those needing to repair via cutting or welding MANY different metals -- and without distortion...
Check out these crazy videos....
This gadget welds/brazes/cuts -- with juice and water!
---
Tesla
Greg, I'm so far into the assembly, I think I
will
have a go at a repair after all! One more layer and I'lI be able to get the whole switch out for bench work. All is in good order, because apart from the spring blade, everything is made of brass, copper or tufnol. I do like the assurance of modern fuses though, having once seen the fireworks resulting from an auto electrical short. I have a complete set of workshop manuals, owner manuals and parts lists. I got them from
http://tracto.perso.neuf.fr/
a French company who appear to have manuals for nearly every tractor made, inc. many Brit & US makes. My manuals for the Renault are so complete it can take hours to find the correct model, type, factory variant etc. I have even tracked the correct paint shade and had some catalyst-spray made up. It appears that the old cellulose is not availabe here any more.
Tesla: The plasma welder looks really interesting.
---
Wood work but can't!
Link Copied to Clipboard
Featured:

Tools for Electricians

* * * * * * *


2023 NEC Now Available!

* * * * * * *


2020 NEC Electrician
Exam Prep Combos:
Master / Journeyman