Who's Online Now
0 members (), 13 guests, and 13 robots.
Key:
Admin
,
Global Mod
,
Mod
George:

Humble pie in hand....I sorry! Let's see where this goes......
---
John
2017 / 2014 NEC & Related Books and Study Guides
Okay we won't settle the argument about what happens when the temperature changes, or what came first the chicken or the egg or whether it is hole flow or electron flow when current flow happens.
Next question: Given the temperatures mentioned in the original post, what size wire would we use if the load were 34 amperes? Plan on THWN.
Oh, John I accept your apology.
Last edited by George Little;
03/26/11
12:10 AM
. Reason: additional thought
---
George Little
How high is the conduit above the roof?
(Table 310.15(B)(2)(c))
---
Greg Fretwell
Figure 129 degrees F. as the temperature on the conductors inside the conduit and that I've already done the math required for 310.15(B)(2)(c).
---
George Little
If you added the height factor in 310.15(B)(2)(c) then I think you derate to 67% of the appropriate column (THWN vs THWN-2)
---
Greg Fretwell
Greg- you and I and probably John are on the "same page" as they say and now I need someone to tell me what gauge THWN wire would be required for this branch circuit.
---
George Little
If you could find some THWN-2 I would say #8 cu.
You did make this a little test tho. If you say #8 THWN you only get 33.5a
Considering the 10' thing, I would probably take the #8 either way.
---
Greg Fretwell
I agree Greg. I'd wink at the .5 amp. THWN-2 is something I've not seen out there and don't know how popular it really is.
---
George Little
The elusive THWN-2. This was left over from my wife's 700' pump circuit job. The wire came From City Electric.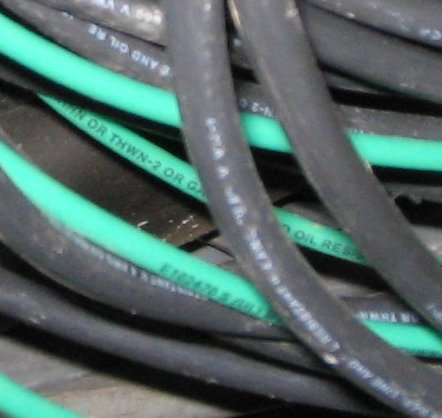 ---
Greg Fretwell
Interesting, You have a conduit that would absord the sun energy in free air, add in a roof abosrbing heat and creating thermal effects then reflection. Does the white roof now cause double the efect on the conduit when it refects. Isn't there requirements based on spacing off the roof? What if the conduit is painted with some type of refective paint?

Ob
---
Choose your customers, don't let them choose you.
Link Copied to Clipboard