Who's Online Now
0 members (), 33 guests, and 17 robots.
Key:
Admin
,
Global Mod
,
Mod
I've been given the job to re-wire a small duplex.
The building is divided into two units of different size, and each has it's own meter. One unit is an 'efficiency,' of about 400 sq. ft, while the other is a 1-bedroom at about 500 sq. ft. Both have complete kitchens. Stove, heat, and water heaters are gas, with electric ignition. Air conditioning is a MUST.
My question is: how many circuits do I need for each unit? My first 'quick glance' says 10. If that's the case, I think the accumulated recent code requirements are a bit excessive.
As I see it, each unit will
require
:
2 breaker spaces for the AC;
1 for the furnace igniter;
2 SABC's for the cooking areas;
1 for non-counter kitchen uses;
1 for the bathroom;
1/2 (one in just one of the panels) for the smoke alarms;
1 for 'laundry' (not that there's any space -or plumbing- for such, and no mention of a dryer); and,
1 for remaining outlets.
I don't think I'm
required
to separate the sleeping area receptacle from the other receptacles, the outside receptacles from the other circuits, or the lights from the receptacles.
Have I missed anything? Misunderstood something?
Less than 3 ft. of counter space - and I need TWO 20-a circuits? A "laundry" circuit where there's no plumbing? Does the furnace igniter really need a dedicated circuit?
My load clacs -even with the A/C load- come in at well under 60 amps. Yet I'm required to give each 'half' 100 amps .... and it looks like the smallest panel with this quantity of spaces is rated 125 amps.
Have we over-engineered things?
Stay up to Code with the Latest NEC:
Did you look at 210.52(F)ex2? What does the AHJ think about it?

Correct me if I am wrong bit I do not know of an article that would require a separate circuit for the furnace igniter although you still need one for the air handler if this is not the same as the AC. (we don't have a lot of <any?> furnaces here)

As a design issue I would have 2 circuits for general lighting, just so you are not stumbling around in the dark when you trip the breaker. You can pick up your "other kitchen loads" and the smokes on them.

I agree the SABC rule seems silly here but rulz iz rulz. I don't know of a loophole. The handbook shows a picture of picking up the fridge, disposal, "dining area" receptacles and range igniter on the SABCs so that helps your load diversity.



---
Greg Fretwell
Reno:
Here in NJ, (sorry you are not) we have a 'rehab' code in the UCC which you could use to circumvent some current code requirements that do not affect life safety.

Have you had a discussion with your local AHJ? You may get some good news.

The 100 amp minimum is something you have to live with.


---
John
This will give you an idea how hard you can squeeze 210.52(B), particularly if you can call some area the dining room.
From the 2008 handbook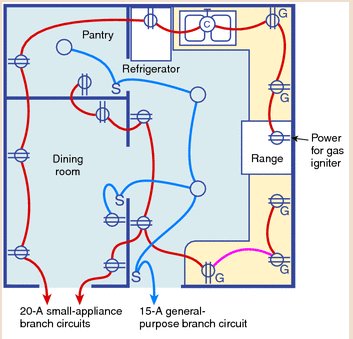 ---
Greg Fretwell
I inferred the dedicated circuit from the mechanical code, which requires furnaces to be on their own circuit.
AHJ? Permits? Please .... this existing building has not, as best I can tell, ever complied with any provision of any code whatsoever. Even I, who know little of the other trades, can see plumbing, gas, mechanical, and structural violations at a guick glance. I'm told there weren't always inspectors out here, and I believe them! The scary part is that this is a 'nice' place in the 'better' part of town. (Feel free to imagine what I'm finding in my place on the 'other' side of the tracks
)
Thx for the handbook art; maybe I can consider the sleeping area to also be the eating area - at least in the 'studio' unit.
Imagine if this little place had electric appliances? Why, the panel would have to be every bit as large as the one for a house. I'm thinking back to my former home in Reno, where I got along quite happily on a 30-amp service with three 15-amp circuits- and a separate 240 drop for the water heater.
Maybe we can agree that the NEC needs to allow for such modest accomodations ... but how to do it? Make a proposal for each affected sentence - or do we need a whole new article for "antique accomodations?"
Last edited by renosteinke;
01/13/11
05:02 PM
.
The general lighting load is always going to be a minor part of the total required circuits these days. It sounds like you are going to be in a 20/40 100a panel anyway so I would just wire it the most efficient way. These days wire costs more than breakers it seems.
---
Greg Fretwell
Reno:

You said:

"Maybe we can agree that the NEC needs to allow for such modest accomodations ... but how to do it? Make a proposal for each affected sentence - or do we need a whole new article for "antique accomodations?"

The 'antique accomodations' here (NJ) was the principal intent of our Rehab Code, within the UCC. Who says NJ doesn't do anything right!!

---
John
We have an "existing building code" but the electrical code is still going to be the NEC.
---
Greg Fretwell
Our Rehab is presently using the '05 NEC, and is awaiting final writing by the DCA.

It's involved to explain the musts, cans, & don't necessarily have-to's. In short..depending upon the scope of the overall proposed work. Life safety items, and ADA for the most part are mandatory to current codes. Receptacle spacing, clearances, etc are on case by case basis.

Unfortunatley, Reno is not here with me.



---
John
Link Copied to Clipboard
Featured:

Tools for Electricians

* * * * * * *


2023 NEC Now Available!

* * * * * * *


2020 NEC Electrician
Exam Prep Combos:
Master / Journeyman