Who's Online Now
0 members (), 115 guests, and 12 robots.
Key:
Admin
,
Global Mod
,
Mod
I am doing a bit of research for a Canadian rule on bonding conductor sizing.

NEC article 250.122 B says bonding wire (equipment ground) must increase with current carrying wires per some ratio.

I have some older references to 250.95 from soares book on grounding and the green book which must be in a code older than 2002.

Anyone have an older book that has an article or table 250.95?
What did it say? Was there a Table associated with it?
Stay up to Code with the Latest NEC:
This is from the 96 code
Let's see if this works
Quote

250-95. Size of Equipment Grounding Conductors.

Copper, aluminum, or copper-clad aluminum equipment grounding conductors shall not be less than shown in Table 250-95.

Where conductors are run in parallel in multiple raceways or cables, as permitted in Section 310-4, the equipment grounding conductor, where used, shall be run in parallel. Each parallel equipment grounding conductor shall be sized on the basis of the ampere rating of the overcurrent device protecting the circuit conductors in the raceway or cable in accordance with Table 250-95.

Where conductors are adjusted in size to compensate for voltage drop, equipment grounding conductors, where required, shall be adjusted proportionately according to circular mil area.

Where a single equipment grounding conductor is run with multiple circuits in the same raceway or cable, it shall be sized for the largest overcurrent device protecting conductors in the raceway or cable.

Where the overcurrent device consists of an instantaneous trip circuit breaker or a motor short-circuit protector, as allowed in Section 430-52, the equipment grounding conductor size shall be permitted to be based on the rating of the motor overload protective device but not less than the size shown in Table 250-95.

Exception No. 1: An equipment grounding conductor not smaller than No. 18 copper and not smaller than the circuit conductors and part of fixture wires or cords in accordance with Section 240-4.

Exception No. 2: The equipment grounding conductor shall not be required to be larger than the circuit conductors supplying the equipment.

Exception No. 3: Where a raceway or a cable armor or sheath is used as the equipment grounding conductor, as provided in Sections 250-51, 250-57(a), and 250-91(b).

Table 250-95. Minimum Size Equipment Grounding Conductors for Grounding Raceway and Equipment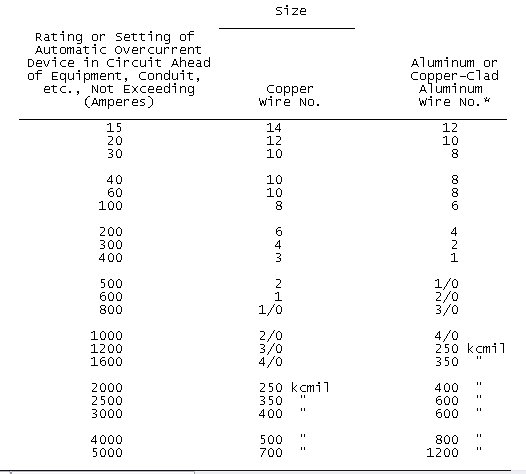 ---
Greg Fretwell
Doug:
I just checked the 1981 NEC (Handbook) and 250.95 is verbatum to what Greg inserted above, without the following:

"Where the overcurrent device consists of an instantaneous trip circuit breaker or a motor short-circuit protector, as allowed in Section 430-52, the equipment grounding conductor size shall be permitted to be based on the rating of the motor overload protective device but not less than the size shown in Table 250-95."

Table 250.95 is identical.

I have older NECs at the work office, I'll attempt to remember to check it as far back as I can Fri. (I hope)
---
John
It is the same in 75 except they say MCM, not kcmil
---
Greg Fretwell
Link Copied to Clipboard
Featured:

Tools for Electricians

* * * * * * *


2023 NEC Now Available!

* * * * * * *


2020 NEC Electrician
Exam Prep Combos:
Master / Journeyman