Who's Online Now
0 members (), 10 guests, and 16 robots.
Key:
Admin
,
Global Mod
,
Mod
One of the fast food chains (I won't name) put in all new registers. The specs said they needed twist lock plugs on all of them but the stores were not wired with twist lock receptacles and they were not shipped with twist lock plugs so this is what they did.
After a few installs they stopped.
I found this in my junk drawer yesterday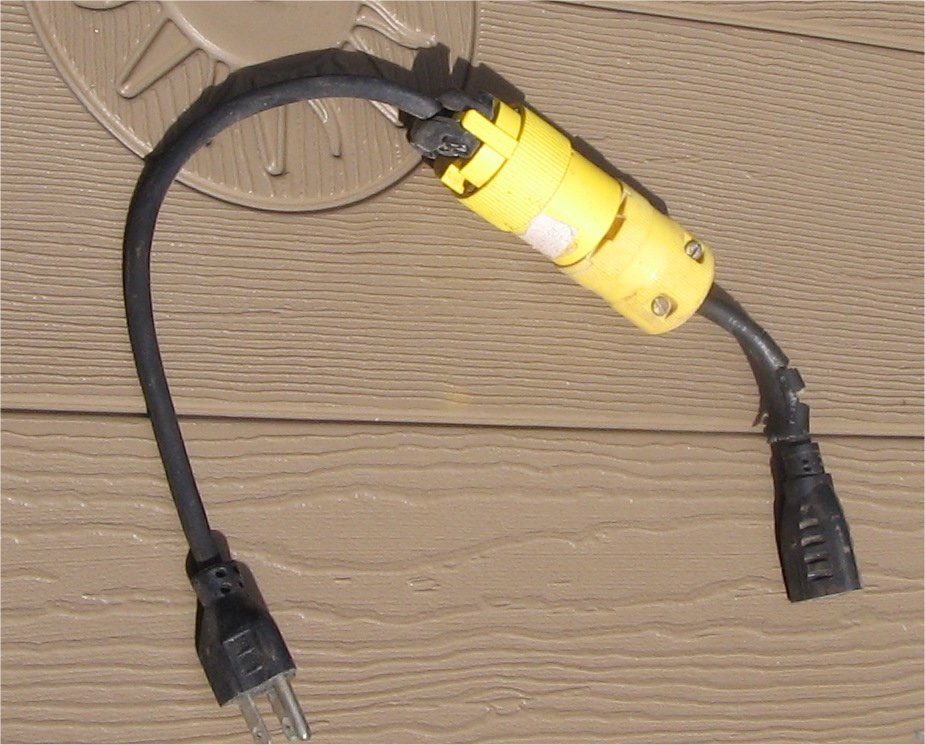 ---
Greg Fretwell
Greg:
Hmmm. is that a Straight blade male to a TL female....amd a TL male to a straight blade female....that just happen to 'match up'.....or is that a real true story???


---
John
It is absolutely true. The two pieces were put in the toolbox to deal with the problems when you had a mismatch in an install so you could get them up and running. Somebody decided if you NEEDED a twistlock to fulfill the installation specs you could assemble this and have one (with NEMA 5-15s on both ends). Fortunately it was stopped right away but a few stores got this cludge in their installation package (where I got these).
---
Greg Fretwell
BTW after all the hoopla, virtually all of them were installed without twist locks because many people pointed out the machine end was the regular IEC C13/C14 so what were they "locking"? They never rewired the stores for the dedicated circuits in the recommendation/spec either.
They just plugged everything straight into the existing circuits and it worked fine. The big problems were software related.
---
Greg Fretwell
I'm sensing the title of the thread means more than it appears
BTW... LMAO!
Let me guess, it was made up by the IT guys? I know that they have gender changers for most everything else.
Point of Sale installation support team but that was sort of "IT guys".

It is just what happens when you have a parts catalog and a hard to enforce rule. People get creative with the bosses money. These probably cost them $50 a pair by the time they got them in the box with parts and labor. I don't know how they were made but they are not even the same cord type. You can see the one with the female end fell apart in my garage.
---
Greg Fretwell
A relative of mine showed me an "adaptor" that he got from the factory he worked at years back. It had a standard NEMA 5-15 plug on one end, and on the other end had a NEMA
6
-15 connector on it. 6" long cord too. I didn't know what they could have used that for. It looked like one of the plant electricians put it together.
Greg:
At $50 a pair, that's still about half the cost of the Hubbell 'gender benders'; ie: L5-20 male to 5-20R at $125.90 from WWG.

Hope to purchasing dept don't see this thread!


---
John
Sort of related: I did some work in a factory that had alot of sewing machines. When there was a problem with one, they would just un-plug it and plug in a replacement. Problem is these are three phase machines, and not all wired the same. Plant maint. department solution: plugs made up with two of the phases swapped so as to reverse rotation, machine running backwards, just plug in a reversing plug and keep on sewing.
Link Copied to Clipboard
Featured:

Tools for Electricians

* * * * * * *


2023 NEC Now Available!

* * * * * * *


2020 NEC Electrician
Exam Prep Combos:
Master / Journeyman