Who's Online Now
0 members (), 42 guests, and 21 robots.
Key:
Admin
,
Global Mod
,
Mod
I have been in business for 25 yr and have only wired maybe 10 new homes.
The problem is that the carpenters wire them.
I bid a house for my doctor MD last fall and I new what I was bidding against. The total was around $18,000
I told him in the first meetting I would be double his cut out price for electrical. When it was all said and done he told me I was 2.5 X the carpenter.
Now understand residential has NO permits NO inspections
The only inspection they have is for plumbing from the health dept and a 25.00 building permit from the local city dept. If your outside the city limits you don't need that.
I live about 15 miles from the limits of a large city and they require all the inspections.
The builder warrants the work for 1yr and after that call a electrician.
The work then is good. We go from addition to addition trouble shotting and repairing the total screw ups.
The other day I was on a job with dead outlets and lights. No power to exterior, bathroom lights or outlets and a few other items. My first thought was GFCI but there was none.
After checking panel and breakers and pulling outlets out I found ONE GFCI in a small bathroom in the corner tripped. The owner said he never seen that there before.
Down the street from me is a 1/2 million $ house and he called me to say all the outlets in his OFFICE are dead. He called me back later said his wife fixed the problem she pushed the reset button on the outlet in her bathroom. I OFFERED HER A JOB but was turned down.

Does any body else have carpenter/electricians out there?
Latest Estimating Cost Guides & Software:
They are both the bane of our existence - and an opportunity. Let yesterdays' job illustrate the point.
I once had a major apartment complex as a customer. Well, times change, the property was sold, and the new mega-corp owners decided to use their maintenance guys. They stopped calling me.
Well, two years have gone by, and they call me yesterday. It seems that their guys have been unable to get some pole lights working. It seems that this problem has been persisting for over a year.
I remembers there being a little kiosk being near the entrance, that held the map of the complex. The familiar kiosk was no longer there - removed in their remodeling.
Would anyone care to guess where the power for the pole lights originated - or where the photocell was mounted?
It didn't take all that long to trace, and uncover, the buried cable end. Last night, the majority of the pole lights were working.
Today, I returned to troubleshoot the remaining lights. :ow and behold, they had installed new fixtures - with integral photo-eyes. It appears that, when the lights failed to light when the master eye was covered, the maintenance crew assumed the lights were not working, and 'harvested' the bulbs for use elsewhere. Problem solved.
Then fact is, I have better things to do with my time than to go around changing bulbs. Yet, when the problem requires tools, equipment, and training beyond that of the maintenance crew .... this is my chance to shine. I won't forget everyone's amazement when I painted a spot on the grass, said 'dig here' .... and they found the disconnected wire. They were first puzzled, then amused, as I paced around with my little "mine sweeper" toner ... now they BELIEVE!
The moral is: even the cheapest customer will eventually come across something he can't solve. This is your chance to shine.
When I was the state inspector I had "ranger/electricians" in the park service.
Normally you need to be the owner or a contractor to pull permits here but there is a loophole that allows any state employee to do just about anything on a state project. Some were OK, most were fairly clueless.
The best "state" electricians were in the prison system, Desoto correctional was extraordinary. The maintenance superintendent (Ken Collingsworth) was outstanding and he collected a bunch of electrician/drug dealers in the "DOC draft". They put together some of the best EMT jobs I have ever seen. If I was a contractor doing commercial looking for a great project manager I would hire Mr Collingsworth in an instant.
---
Greg Fretwell
I haven't seen much of a problem with carpenters doing electrical work. It seems to be the totally unqualified guys (handymen) who find a sucker and when they get their hooks into them, don't let go. They do plumbing, ductwork, electrical, carpentry and everything else.

I'm not sure that there is a solution. It's a special person who wants his work done by an unqualified worker. Anyway, I think plumbers do better electrical work, but no one can afford them.
Originally Posted by sparky25yr
Does any body else have carpenter/electricians out there?
Yes, but it's not legal where I'm at.
The general contractor doesn't want to pay for an electrical contractor so he finds anyone he can to do the work.
I had one pull up to me while I was on a service call. He wanted to know how much I would charge to show his workers how to do the wiring and how much I would charge to come back and inspect their work.
Here's a fine example of the quality work they do. Open splice buried in the wall and romex run under the carpet. This was in the basement of a new million dollar home that a GC was finishing and didn't want to hire an electrical contractor to do the work.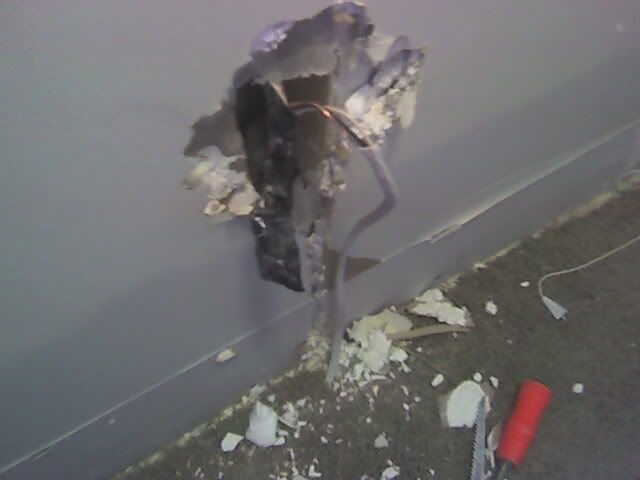 This is another picture in the same basement showing how all the receptacles had been installed. Note how they doubled up the wires on the one terminal screw but left the other one empty. Pretty funny stuff. I laughed all the way to the bank when I charged them plenty to have all the sheetrock ripped out to have it completely rewired.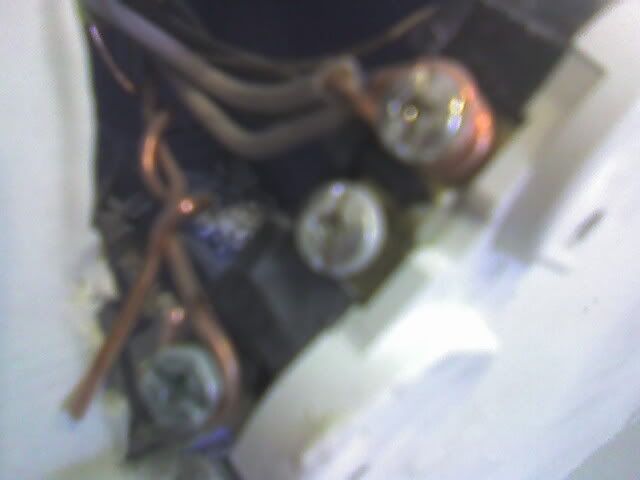 Last edited by A-Line;
04/30/08
10:11 AM
.
The local construction industry is booming so we are getting more handymen doing electrical work. It is illegal for unqualified workers to do electrical work here so we don't get a lot of carpenters dong the big jobs but it can be tough to catch the bad ones doing those little home additions.
We have some trouble with HD recomending the do it all contractors that make a mess of the wiring. I did send a letter to HD that electrical work can only be done by licenced contractors and the made sure some of the rough work got fixed. It has helped.
They are not legal here either but it sure does not stop them from doing what they want. They do not get permits and are rarely caught. When they are caught the fine is so low as to be minor pocket change to them.
The only thing to do is charge the h**l out of them when they have to get a licensed contractor to fix thier work. I charge them at least 3 times what I would charge to do the work myself. I also let the HO know why and tell the HO that the carpenter/handyman should not bill the extra to the HO. BUT the HO gets this info after I have been paid.
---
ed
We see it all the time, a few years back a homeowner had to pay to have the carpenters mess cleaned up, he went to the city and complained, he filed a complaint with the court, and then went after the carpenter, no license or permit and every other charge the judge could find, he spent 30 days in the counnty lock up and paid $5k in fines, then the homowner took him to court and sued for damages and was awarded $16K if only more owners would take action these clowns would think a bit before acting.
Last edited by LK;
04/30/08
05:51 PM
.
What we should all start doing is building 2 story additons onto houses. Use 1"x3" for the posts to hold everything up. Substitute 1"x1" for the studs, only run em thru the table saw first and make 2 out of each of that so the cost of materials goes way down. Floorjoist needs to be a little stronger so we'll use 1" x 4" for those. 3/8" plywood for the floor decking. Nails set at 16" intervals, use them gal 1-1/4" finish nails they are cheaper. Doors only need one hinge in the middle of the frame, why use 3? . Did I forget the stairs? Nail several orange crates together in a stair riser pattern. Cover it all with more of that 3/8" ply material so you can't tell from looking at it. Proudly tell the homeowner "who needs to call one of them expensive carpenters. Any fool can do this stuff".
No inspections on residential? ABSURD! This is totally alien to me, as we have trench, rough in, and final at the very least.

Do a lot of houses burn down there? I would imagine dead outlets are the very least of your concerns.

The only way around this that I can see is to lobby for mandatory inspections on electrical work. This alone would put 90% of the "carpenter/electricaians" right out of the wiring game.

There are more perfect arguments for electrical inspections than I can even start to list here, but safety is a huge catagory all it's own.

I'm still trying to wrap my head around a municipality that doesent require permits/inspections on electrical work. CRAZY!
Link Copied to Clipboard
Featured:

Tools for Electricians

* * * * * * *


2023 NEC Now Available!

* * * * * * *


2020 NEC Electrician
Exam Prep Combos:
Master / Journeyman