Who's Online Now
0 members (), 67 guests, and 14 robots.
Key:
Admin
,
Global Mod
,
Mod
Hello everyone,
Some time ago I posted about the restoration of a very large crystal chandelier. Some time after that, I also visited the site and now the restoration of the chandelier is being arranged. Also, it is time for an overhaul of the room's lighting system, which contains ten chandeliers and four large banquet lamps. To aid in my question, I have made a picture and with a legend and will describe the desired control methods: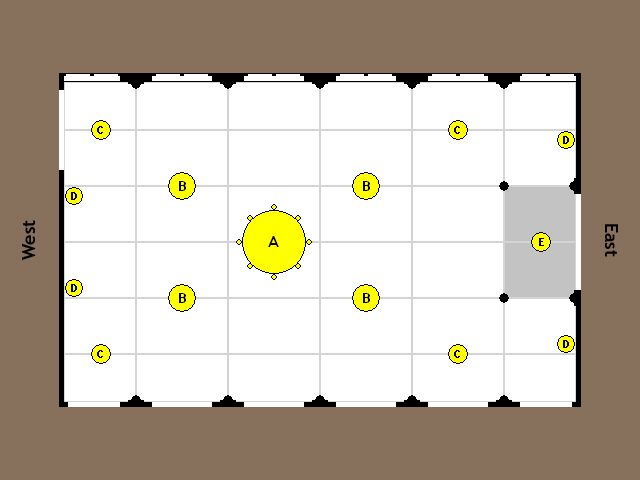 A - Crystal chandelier, 105 lights at 25 W each (2625 W, zones of 48, 48 & 9 or 64, 32 & 9)
B - Four crystal chandeliers, each with 18 lights at 25 W each (4*450 W = 1800 W total)
C - Four crystal chandeliers, each with 12 lights at 25 W each (4*300 W = 1200 W total)
D - Four banquet lamps with crystals, each with 15 lights at 25 W each (4*375 W = 1500 W total)
E - Alabaster dome chandelier, unknown number of lights (four possibly, I do not know)
The grand total is 285+ light bulbs for a total of 7,125+ W, or about 60 amps. This is assuming all the bulbs are 25 W. In all likelihood fixtures like the banquet lamps are going to have 15 W bulbs and the largest chandelier may have some 15 W bulbs, but it might be best to calculate assuming all is 25 watts.
Since most of the wiring is accessible and there is a subpanel with sufficient capacity dedicated to the lighting of this hall, I am trying to figure out a way to best divide this lighting across a number of circuits and dimmer switches.
Chandelier 'A' is going to be on three dimmers as described, on two circuits. If it is divided 48, 48 and 9, it will fit on two 15 amp circuits with 1200 W on one and 1425 W on the other. If it is divided 64, 32 and 9, it will fit on a 20A circuit and a 15A circuit, but this will surely be two 20s tied at the handle.
Inner chandeliers 'B' total 1800 W (15A) and would fit on a 20A circuit. I don't know though if it is wise to put 1800W so near to the threshold of a 2000W dimmer though. In any other case, they can be divided into two pairs, east and west.
Outer chandeliers 'C' total 1200 W (10A) and would fit on a 15A circuit. They could also be divided into pairs though, with the east lamps and outer chandeliers (totalling 1350 W or 11.25A) on one 15A circuit and the west lamps and outer chandeliers on another.
Banquet lamps 'D' total 1500 W (12.5A) and surpass 80% of a 15A circuit. They would have to go on a 20A circuit or be divided into pairs with the chandeliers 'C'.
Chandelier 'E', which hangs over a dais at the threshold of a display room, can be connected to whichever circuit has enough capacity or it can tie into another room.
Ideally, all of these fixtures would be accommodated by seven dimmer switches (three for A and one each for groups B, C, D and E) and five circuits. Or they would have to be broken up into pairs, but with no dimmer controlling more than one "letter". Manual dimmers are being sought, not a theatre style system, although there is room and accessibility to install a dimmer rack in the future.
As it stands, there are six or more toggle switches, three of which turn on an uneven mixture of lights in the middle chandelier, and the other three or more which turn on a mixture of chandeliers and lamps.
Any ideas or thoughts?
sounds like you have it well in hand Doug. I do agree that 1800w is too close to capicity on a 2000w dimmer, at least for me it is. A dimmer rack is the way to go if the customer will, if not...
---
Jimmy

Life is tough, Life is tougher when you are stupid
Hmm, so it seems the only "problem" load in this whole room is operating the four inner chandeliers on the same dimmer switch, since 1800W is 90% of the capacity of a 2000W dimmer, which seems to be the highest rating that a box mounted device is produced in.

I have seen some racks and cabinets which have 20A modules. Discounting 'E' for the time being, at the very least there will be six switched lines in this room: three for 'A' and one each for 'B', 'C' and 'D'. At the most, dividing the room into east and west halves brings it up to nine: 3 for 'A' and two each for 'B', 'C' and 'D'.

Nine switched lines could be accommodated for with fairly standard dimmers but that would be a mess. The switches are actually surface mounted and located beside the middle column on the south wall, which actually has a segment cut and hinged to swing open, exposing the subpanel. There isn't room for a rack or cabinet *there*. The simplest and least obtrusive installation I could think of would be to put three dimmers for the one chandelier on one side of the column and three dimmers for the other three groups of lighting on the other.

The piers with arches between them on this side of the room are essentially impenetrable and the construction between the floor and walls of this place is so strong and well done that it is an absolute nightmare to fish anything in this place. The half-columns are attached to the fronts of shallow, built out "channels", rectangular and hollow in cross-section. These were added onto the fronts of the piers many years after the building was built the centre column on the south wall is what accommodates the subpanel.
Would it be too much trouble to route everything to a centralized dimming system? For example, the Leviton 2408CD comes with either 4 or 8 20 A circuits. Then, you could run low-voltage control wiring to as many points as you need. They make a variety of control panels as well, and the panel supports DMX in case they have a conference or something where an outside lighting rig is brought in, and they would like control of the house lights through their console.
It would be very difficult. I know where a control board *should have* been located but the fact that a subpanel exists where it is now and the trouble it would take to reroute the wiring to the centre chandelier alone renders it difficult to make those sort of changes.

The way this building is built also makes things tricky. There is at least three feet of construction between any given ceiling and the floor above it and so on. We're talking about steel I-beams, joists, decking, more joists with sand and mortar between them and then hardwood above and decorative ceilings below, with construction oriented in opposing directions, etc. Even when heating and piping where run under floors, they had to go through at least four feet of concrete. One of the saving graces of the construction is it is so well built that it will last forever in mostly its original form, since the structure isn't "pliable" enough to allow vast, destructive changes.

I am planning to make the least disruptive changes as possible, given that this place also showcases an enormous collection of art, furnishings and antiques to the public seven days a week through the summer and it is not the only project. There's also a grand ballroom upstairs, a music room, a dining room with lighting by Thomas Edison and numerous defective motion sensors to be dealt with and that's just the electrical portion.

I would love to do a rack but it's difficult for this particular room without further investigation. Simplicity is the goal for now (as far as the owner and I have seen, we are bound to it as far as we can tell at this time) to correct some very, very peculiar switching problems in this room.
How about something like Lightolier's dimming amplifiers? They have 2400 VA and 4000 VA versions. As I understand it, you just piggyback one or more of these things onto one of their "HDF"-type dimmers, and it then looks to the user like a single dimmer.
Also, their Multiset dimmers allow you to connect multiple dimmers to one control, which might also do what you want.
Their dimming amplifiers are listed on page 23 of this document:
http://www.lolcontrols.com/clientuploads/techdocs/LOLProdGuide.pdf
That seems like a viable solution. It is a shame though that the location doesn't lend to an immediate installation of a more professional grade system and that the issue between simple dimmer switches and a grander system is one set of loads totalling 1800W.

Has anyone loaded a dimmer to around 90% capacity? I feel that if one group of chandeliers needs to be split into pairs the others might as well, which results in many, many dimmers. Ideally, more of this column can be cut out to form a door with a dimmer panel installed behind it but I can't recall the depth of the "box" these columns are attached to or even if it was a tight fit for the subpanel.
I've got a dimmer at my house at 86% right now. (600W Lutron, 3-way). It's warm, but doesn't really seem dangerous. I honestly didn't notice I was so close to the rating until after it was installed. Those chandalier bulbs add up QUICK, don't they? (13x 40W in my case)

The rating exists for a reason. If it's rated for 2000W, you *should* be able to safely put 2000W on it. It's not a breaker, there's no 125% oversizing unless the manufacturer caveots it in their fine print.
Last edited by SteveFehr;
02/05/08
06:53 AM
.
I don't know if you covered it but be sure that adjacent dimmers don't touch or you will have to derate them for mutual heating. You might need a greater spacing on each dimmer.
Link Copied to Clipboard
Featured:

Tools for Electricians

* * * * * * *


2023 NEC Now Available!

* * * * * * *


2020 NEC Electrician
Exam Prep Combos:
Master / Journeyman