Who's Online Now
0 members (), 15 guests, and 52 robots.
Key:
Admin
,
Global Mod
,
Mod
Following on from previous topic I have decided to my finger out and get on with this project.
I know what I want to do, but not shure how to do it so it will be a bit of trial and error. Please feel free to comment as we go.
---
der Großvater
Thinking about making my own generator. Not to supply a house, just to do it from bits and pieces.
So I have secured the use of an old exercise bike and this old induction motor.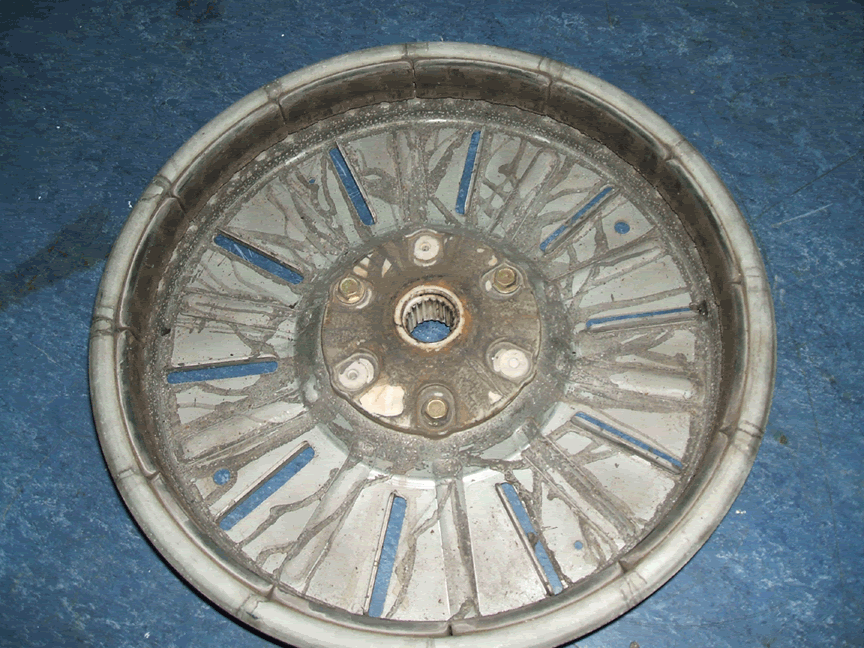 As you can see the motor has received some water damage.
When meggerd two of the winding were shorting so we have cut them out and are in the process of rewinding those two by hand
---
der Großvater
What's the motive force? Windmill? Water? Surely not the exercise bike!
That's a wierd motor. 36 poles! Whats it from ?
Why not use an ordinary car alternator; readily available and (I think) fairly efficient?
I'm no expert on this subject but my old mate Tom Foster in Bordeaux is. A car alternator looks good at first thought; robust, good power output and easily got from a breaker's yard, but in practice the machine's design rpm is far too high. At 4000-12000 rpm useful power band, you would need a gear train for a wind or leg powered generator. The ideal rpm, [ or 'cadence', if you want to talk the talk ], for a trusty average hairy Scottish-type leg is around 70 rpm. A typical 3-blade prop producing 500 watts in average wind-speeds would be about 9 feet diameter and run at around 400 rpm. There is a tip-speed ratio restraint on well-designed props; a factor allowing a broad power band and low stalling risks scenario. The tip speed of this prop is nearly 130 mph [Mach 0.18 ] at 400 rpm and it does not take much imagination to realise what will be the resulting noise levels of a tip running at the speed of sound! So again, a gearbox is necessary if using a car alternator. For the DIY man, finding any sort of gearing which is within cost bounds & weight limits, yet
efficient
is a daunting task. Direct drive is the best option with perhaps a simple belt and pulley arrangement with a VR of 3 or 4 being tolerable for a man powered device.
Ken, your 24-pole permanent magnet generator, modified from a washing machine looks ideal. This should start pumping out volts at very low speeds. As you are rewinding it, you can arrange the generator to produce 3 [ or 6 or even 12!] phase. This will give a flatter rectified wave that 1Ø.
If your project is to be wind powered, a good starting site is Hugh Piggot-Smith's Homepage:
http://www.scoraigwind.com
[Hugh is a Scot BTW]
Loads of stuff on prop design, tip-speed ratios, high wind mill shutdown, generator stator winding, carving your own props etc..
Bon appetit!
Last edited by Alan Belson;
04/03/07
04:32 PM
.
---
Wood work but can't!
Geoff I just counted and there are indeed 36 poles. Wow!!! You could run 3, 6, 9, 12 or 18 phase!
---
Wood work but can't!
Goeff
It is a strange motor. It came from an LG "Direct drive" washing machine.
There has been a bit of discussion about this item in my topic "How to sell washing machines?" and because I am just starting out in these experiments I will initially be using leg power to drive it.
Allan
I have been looking at that web site before and got some ideas from it.
You have given me something to think about. I think using that motor is a bit adventurous for our first attempt.(might try it later though) So I am going to the scrap yard at the weekend to get a car alternator, and see how that goes to start with.
I have not measured it yet but given the circumference of the flywheel of the exercise bike, and the circumference of the driveshaft on the alternator. I should get more than 4:1 ratio.
Decided on the change so the team can see some positive results and keep them motivated in case things do not work too well in the future.
PS. I have ordered lots of laminated wire.
---
der Großvater
Here are both the exercise bikes I was given to use for this project.
(I get on well with the gymnasium staff)
We stripped the black one it was in poor condition. I intend to experiment with that one and keep the red one until we know what we are doing.
The turn ration on the black bike is something like 1:21 the final drive being the silver disk at the front.
---
der Großvater
Great Kenbo !
Excellent idea to try it out with the bike.
As
Alan
also sais the great thing of your 36 pole machine is the low speed required to get a reasonable output, to experiment with.
Most big hydro electric powerstations run at very low speeds, 75, 100, 120 RPM with large diameter multipole alternators.
Keeping yourself fit and generating some electricity to drive your stereo or a couple of lights is more fun then putting your energy in a friction system, to dissipate the excess power, to make the bike exercise a bigger workout.
This motor is exactly the same principle as the one I have.
The hardest part is to center the rotor around the stator if you are not using the washing machine assemble i have found out.
Exact line up of all components is critical here.
Keep your project going and keep us posted mate.
Kind regards, Raymond
---
The product of rotation, excitation and flux produces electricty.
Ken, I may be wrong but I think you will need to exite an ex-motor car alternator's stator windings with an external 12vdc supply on startup to get an output.
---
Wood work but can't!
Hey, that's a project I'm interested in too!
Only my idea was to build a gas powered generator that gives 220-230V AC 50Hz.
Key problems I identified: find a suitable generator, match and control the running speed of the motor and generator, voltage and frequency regulation.

Ideally the result would be mounted to a heavy steel frame, painted green and have a bakelite control panel with analog volt and ampere meters and a few old-fashioned surface-mount receptacles.
Link Copied to Clipboard
Featured:

Tools for Electricians

* * * * * * *


2023 NEC Now Available!

* * * * * * *


2020 NEC Electrician
Exam Prep Combos:
Master / Journeyman