Who's Online Now
0 members (), 12 guests, and 48 robots.
Key:
Admin
,
Global Mod
,
Mod
(Photo Courtesy of Joe Tedesco)
I collect and restore radios like these. Usually, the wax paper capacitors must all be replaced, as well as the electroytic filter cap. See my web site
http://www.geocities.com/wa2ise
for more old radios.
I fixed a co-worker's little 4-tube radio and he gave me one of these to have. The dial-scale on mine has a crack (it's made of flexible plastic).
It was sold to him as a bill of goods and since I had repaired his little fire-engine red Firestone, he and his wife decided to give this one to me...and in expectations that I can also fix it. Which I will...as soon as I get some TIIIME!!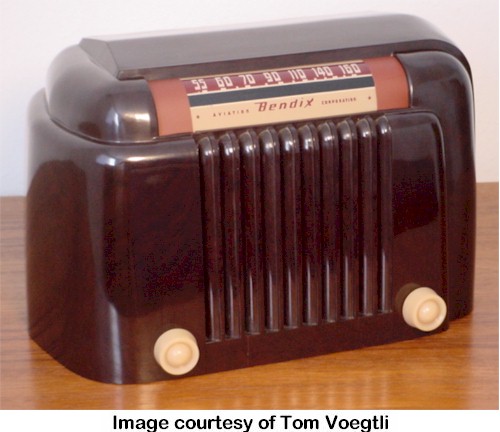 Bendix 526A
Has Joe caught the old radio bug also? Be careful...they are very addictive..
[This message has been edited by SvenNYC (edited 11-01-2006).]
Great stuff! I think regulars will know that I also like to search out and restore old radios and associated equipment.
Nice pictures, folks!
Is it true that these radios only play "oldies?"
Quote
Is it true that these radios only play "oldies?"
TG,
That may be ..
My Father gave me an old car once that only got AM stations on the Radio.
He didn't know the FM didn't work !!
Bill
---
Bill
I absolutely love old radios like the one above.
I have an old 1930's Dreco set here that I listen to the Cricket coverage on AM on, when I am working in my workshop.
I had to rip all of the paper capacitors out of it and a few busted valves but it hasn't missed a beat in the 10 years I've had it.
74 years on and still going strong, save the bad parts, but I don't think we'll be seeing vintage Mitsubishi gear like this Dreco!.
Another old radio fan....I've only got one though, a Zenith AM/FM tube type bakelite radio from 1953....you'll have to wait for awhile if you want a pic.
I did have an old non working 1947 Delco AM radio in an all wood housing. Back in Jan 2003 I learned via the newspaper of an old timer 45 miles from my house that was 90 years old but still operated his radio shop that had been in buisness since 1935. He diagnosed it as having bad tubes and capacitors...he had plenty of tubes but had to search for capacitors...unfortunatley I never did get my radio back as he passed in Sept 2004....I didn't find out about his passing until this past summer. RIP
Link Copied to Clipboard
Featured:

Tools for Electricians

* * * * * * *


2023 NEC Now Available!

* * * * * * *


2020 NEC Electrician
Exam Prep Combos:
Master / Journeyman