Who's Online Now
0 members (), 19 guests, and 54 robots.
Key:
Admin
,
Global Mod
,
Mod
I'm not sure if my friends in the UK/Ireland and other places have a heater in the Bathroom.
But anyhow, I used to get these types of heaters all the time, to take back to the workshop, to blow all of the accumulated dust and other rubbish out of them.
Up-shot of this topic is, if not maintained well, these plastic heaters can be a fire hazard.
They have an over-temperature cut-out on them, but often, it never trips until 100C is reached.
Plastic on these heaters often melts at 85C.
But, if people would just get the things blown out with compressed air every so often, we would save a few house fires.
Are you referring to the modern wall-mount fan heaters? They seem to have become fairly popular here in recent years.

I have a radiant heater in my bathroom mounted on the wall opposite the tub. It's one with a tubular element, about 1kW and adjustable rear reflector. These were pretty common before the days of central heating in most houses.
Dear Mike!

We have those in the office. If compressed air really helps, I'll use it.
Thank you for the advise.
I hate those heaters, they always smelling. I have no idea why they put a grid on the top, whenever heat moves upside?
I have central water heating at home, but the air is so darn dry, I can hardly breathe at night.
---
The world is full of beauty if the heart is full of love
Trumpy,
If they stuff up as much as our bathroom vent fans do they'd be pretty leathal!
You occasionally see them here they're not all that common though as most homes have central heating these days. Radiant heaters were certainly quite a normal fixture in bathrooms in homes built from 1900 - 1950. However, I don't think there are all that many of them around anymore.
I think you're refering to this type: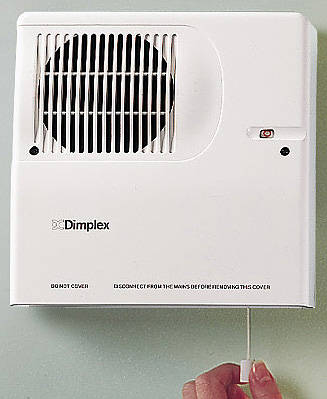 The most common types of electric heating that you do still find in modern bathrooms here are electrically heated towel rails and electric underfloor heating installed under tiles.
The bathrooms in our house have these:
(Part of the normal hydronic central heating system and throws out so much heat it's ridiculous! The bathroom can reach sauna-like tempratures at times.. we had to install thermostatic valves on it)
[This message has been edited by djk (edited 02-06-2005).]
Never had such a prob with our towel radiator. We had a thermostatic valve fitted right at the beginning, but it's always all the way open.

In old houses you'd occasionally see infrared wall heaters in bathrooms, sometimes together with central heating ("During summer a good German doesn't need heating and turns off the boiler!" *sarcasm*).
If it was in me, I'd do some kind of floor-heating that is enough for all rooms.
Maybe with circulated hot water.
---
The world is full of beauty if the heart is full of love
Gloria,
With respect to your Office heaters.
Depending upon their age, you have to disconnect the heater from the supply and blow the thing out with a Compressed Air Gun.
It's best left to an Electrician, because the heater needs to be opened up and blown out from the inside.
Indescriminately blowing compressed air into a heater will do more harm than good, especially where hot elements are concerned.
Most of those appliences are supposed to get an occasional vacuum cleaning. You should always vacuum the air intake grill though, not where the air blows out as you will just suck dirt into the elements.

If it's really clogged up, it's definitely best to get an electrician to fix it.

And its advisable to turn it off first!
"I have central water heating at home, but the air is so darn dry, I can hardly breathe at night." Try placing an oven tray or saucepan with about an inch or two of water over the heater outlet (not all the way over as to block airflow). The water heats up & evaporates & puts moisture back into the air. Used to use this method with pot-bellied stoves with a big kettle of water on top.
Link Copied to Clipboard
Featured:

Tools for Electricians

* * * * * * *


2023 NEC Now Available!

* * * * * * *


2020 NEC Electrician
Exam Prep Combos:
Master / Journeyman