Who's Online Now
0 members (), 8 guests, and 19 robots.
Key:
Admin
,
Global Mod
,
Mod
Quote
Yup, camera in the pocket at a super market on another site visit with a client, this time it was in Miami.

Here is a fine way to feed a piece of equipment..
TA's FA's 90' elbows etc

Marc A. Candels
(submitted via Joe Tedesco)
Marc, good pic!... but what the devil is this thing?!?? The hose looks like it was annexed from the suction line of one of those commercial floor scrubbers... The connection looks like someone grabbed 1 or 2 fittings from each department at Home Depot! Marc, any chance we can get a shot of the other end of this contraption?
-Randy
It's a Jonny Trap, manufactured by FAR Products, Inc.
The first coin operated pump designed to lift waste from boats and discharge it into any acceptable sewage system.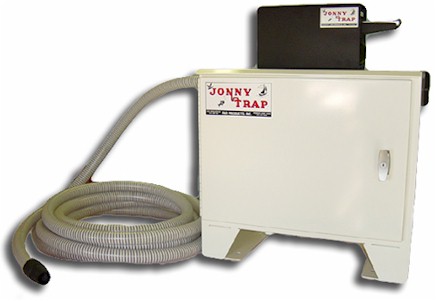 http://www.pumpoutsys.com/default.asp?P=product
[This message has been edited by Mean Gene (edited 06-04-2004).]
So am I correct that the "hose" going to the 'input' designated entry is for the 'input' of the sewage (suction line) and NOT the electrical connection??

A good thing here in NJ, we have pump out boats, and the State sponsors them and NO coins are required.

John
---
John
Thats all we took. The white line went thru a old pull box and then down a 2" sched 40 PVC in the ground. Did not see any other supply to it

Whatever it is, nice collection of fittings
---
Marc Candels
Candels Consulting LLC
Well, after seeing Joe Tedesco's newest example of Liquid Tite, I wouldn't put anything past some people.
Seems like input in this case means water (or worse
)
---
Bob Badger
Construction & Maintenance Electrician
Massachusetts
Yea, I think you are right Bob.

I searched the manufacturers web site for installation instructions, but came up empty handed.
Quote
Here is a fine way to feed a piece of equipment..
Well, there's certainly no denying that...Yuck!!
I had some of that garden-hose action at my house. The previous (also first) owner decided garden hose was a good way to make old, paper-type NMD (without bond wire) suitable for direct burial. It was #14 feeder to a detached garage.
Got rid of that as soon as I discovered it.
Link Copied to Clipboard
Featured:

Tools for Electricians

* * * * * * *


2023 NEC + Exam Prep Study Guides Now Available!

* * * * * * *


2020 NEC Electrician
Exam Prep Combos:
Master / Journeyman