Who's Online Now
0 members (), 14 guests, and 12 robots.
Key:
Admin
,
Global Mod
,
Mod
I have delt with this several times. Same case scenario you speak of.
Tub with a one foot tile area extending from one tile length above the top of the tub to the wall.

I have never been successfull with getting this by anyone:-)
Stay up to Code with the Latest NEC:
so is everyone saying that a gfci receptacle on a wall perpendicular to the shower/tub about 1ft from the shower/tub is acceptable?
Yes, unless it is a mobile home, than it must be at least 30" from the tub and shower space.
---
Bob Badger
Construction & Maintenance Electrician
Massachusetts
I dunno... I certainly wouldn't feel confident installing a receptacle within reach from inside a bathtub.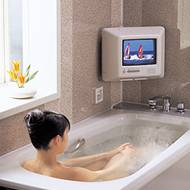 This ones INSIDE THE TUB!!
Different areas have different practices.

The Japanese are neither stupid, nor careless.

Remember, that pic is of a Japanese appliance, in a Japanese home setting. We do not know what practices there might be, that led them to consider this appropriate.

Please note that the text in that web site make reference to the fact that the Japanese use their tubs in a manner quite different from ours.


If they have found a 'safe' way to do this ... sooner or later we will be faced with the same issues.
When I read 2005 406.8(C) I am not sure one of those clock receptacles an inch back in the wall wouldn't be legal. Certainly it sounds legal to have one set back a foot on a ledge. You can have one a few inches away on the vanity side of the tub.
I like the idea of the "TV behind the glass" idea but I can't make a code case for it. Hopefully that new TV is certified double insulated and damp location safe.
---
Greg Fretwell
Anyway you slice it, water and electricity is the same anywhere in the world.
Hi reno

I wonder if that T.v. is Listed for UL in the US? I like the enclosure idea with GFI protection the best.
If you bought one in Europe it wouldn't work here anyway. We are one of the few countries who cling to NTSC TV.
---
Greg Fretwell
Link Copied to Clipboard
Featured:

Tools for Electricians

* * * * * * *


2023 NEC Now Available!

* * * * * * *


2020 NEC Electrician
Exam Prep Combos:
Master / Journeyman